Arrecife Airport Car Rental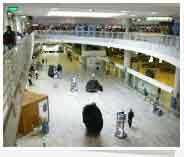 With Arrecife Airport car rental service you can easily drive to the Arrecife and the nearby places. Arrecife Airport in Spain is also known as Lanzarote Airport. It is located at a distance of 5 km to the south west of Arrecife. Whether on a business trip or leisure tour, we offer top-notch Arrecife Airport car rental service that suits the budget and requirements of all the travelers. Rent a car at Arrecife Airport and make your travel a memorable experience.


Arrecife Airport has two terminals and while the main terminal - Terminal 1 is used for international flights, the second terminal caters to inter-island flight operations. A majority of the passengers arriving at this airport are leisure vacationers who want to enjoy a memorable holiday experience in this Spanish island. If you do not want to stand in long queues for taxi, make sure that you hire a rental car well in advance.


Owing to the increasing demand from holiday makers in various parts of Europe, this airport serves frequent scheduled and chartered flights from different European cities. Once you arrive at the Arrecife Airport in Spain, you can also catch an inter-island flight to nearby islands within the archipelago from the domestic terminal at the airport. The latest passenger traffic statistics disclosed that Arrecife Airport handled well over 5.6 million passengers in the year 2007.


As Thursday is the main changeover day in most holiday resorts in and around Canary Islands, this is a busy day at the airport. You can avoid this rush by booking your flight tickets for Arrecife Airport on any other day of the week. Being a modern aviation facility, this airport offers all the facilities that a passenger expects from a major international airport. Arrecife Airport car hire is one of the easiest and the most comfortable way of traveling to or from the airport.
There are a number of cafes, restaurants and fast food outlets located in the airport. You can pick up the snack of your choice from these outlets or indulge in a full course meal. Most of these outlets have both indoor and outdoor seating areas where you can enjoy your sumptuous meal. Once you feel full and have some time to spare, you can treat yourself to some retail therapy in one of the many shops that dot the airport. You can shop for jewelry, perfumes, flowers, clothes or other local products and souvenirs at these shops.


The ATMs located around the airport ensure that you do not have to cut short your shopping spree due to shortage of money. A currency exchange counter is also located in the airport. Though you can take a bus or taxi to your hotel from the airport, it is best to use Arrecife Airport car hire for a comfortable commuting.


Book your Arrecife Airport car rental now!