San Pedro Car Rental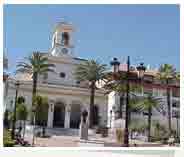 San Pedro, one of the most appealing locations in Southern Spain is located about 10 Km from the very glamorous Marbella.San Pedro, once a farming land for sugarcane, offers a fantastic vacation spot for those who want to pamper themselves in the lap of Mother Nature. With lots to see apart from the natural beauty of the town, the best way to explore this magnificent region is by driving through the town. Using the services of Best Spain Car Rental is one of the easiest and most liked options available for the tourists to explore the town.
Hiring a car from Best Spain Car Rentaloffers flexibility to visit secluded locations of the region as per your schedule and convenience. The nearest airport to San Pedro is the Malaga Airport. You can hire a car from Best Spain Car Rental at the airport terminal itself or when you reach San Pedro. An option to book services online by surfing www.bestspaincarrental.comis also available. You can make your choice of car well in advance and avoid any inconvenience when you reach your destination. You can pick from some of the best deals that the car rental service has in store for you. You can expect your hired car waiting at the Malaga airport before hand.
Best Spain Car Rental offers a convenient and hassle free option to drive through the town and reach out to locations that cannot be explored using public transport system. Talking of the most loved locations of the town, one cannot afford to miss the Central plaza. The place has number of parish churches that are known for their stunning architectural heritage. The narrow lanes in the area are dotted with small shops selling fantastic souvenirs for your friends back home. You can pamper your taste buds with local Spanish food in a number of cafes and restaurants located in small streets. With Best Spain Car Rental, you can explore other untouched avenues and streets of the town if you want to get a glimpse of true Spanish culture.
Other pleasing destinations in San Pedro include the beach front along the Avenida del Marques del Duero. If you are looking to party hard, do visit the famous Bora Bora beach club which is one of the best beach clubs of the town. Near the Bora Bora beach club, you can visit the famous Paleochristian Basilica Church. Move on to a little west by the beach, you will reach the remains of the Roman baths in Guadlamina. Well with Best Spain Car Rental, nothing is inaccessible!