Palencia Car Rental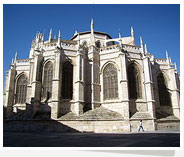 Situated in the north-northwest Spain, Palencia lies in between the Carrion River valley granting some of the most spectacular views to the city.
Palencia city is divided by the Pisuerga River that flows through it, creating four small islands. Close to the city of Palencia, there are hills surrounding, one of which is famed for the world's second highest statue of Jesus Christ, the highest being in Rio de Janeiro. Those who commute by renting cars can visit all of these islands with ease and comfort
Palencia is full with several monuments and must-see sights. One of these happens to be the bridge that is built across the Carrion River. The most convenient option to visit this place is by taking a car on rent. This bridge was originally from the Roman Empire but was later replaced during the medieval times. For those interested in exploring history, the ancient 10 meters high wall surrounding the city can still be seen. Even the alamedas or promenades that were laid along the foundation of these old walls in seventeenth century can be seen. Cathedrals and churches that belong to the thirteenth and fifteenth centuries respectively, which portray the gothic architecture of that time, also make for some amazing sight-seeing.
The fun of sight seeing is experienced when you are free from worrying about fellow companions. This can be done by taking the services of the most sought after car Rental Company in Spain: Best Spain Car Rental . Near Palencia, in a small village called Banos de Cerrato is housed the oldest church of the entire peninsula that is dedicated to Saint John. This village also offers the tourists with some amazing spa services. Simply rent a car from any car rental service available in Palencia and get going towards an ancient experience. Apart from these, the streets of Palencia showcase several architectural wonders belonging to the seventeenth, eighteenth, nineteenth and twentieth century.
Archeological museum, Nuestra Señora de la Calle and Plaza Mayor are a few other places offering tourists with glimpses into the amazing architecture of the ancient times and work by some of the maestros. With so many places to visit and enjoy, if you let the problem of conveyance come in between, your holiday will not be as memorable. Therefore, it is suggested that in order to enjoy the place of Palencia the most, you take the services of a car rental. The entire city is serviced by Best Spain Car Rental . All you have to do is simply pay them a visit or speak to them over phone and book the car of your choice and budget. One other way of booking a Best Spain Car Rental is to go online. Visiting websites like www.bestspaincarrental.com will help you get best deals, making your stay in Palencia all the more fun.