Bilbao Car Rental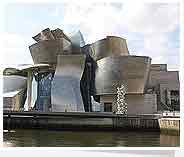 We offer top-notch Bilbao car rental service at the most reasonable prices. Bilbao is a beautiful Spanish city filled with wonderful sights. The city of Bilbao is a bustling commercial center as well. Whether you are traveling alone or with family, this city boasts amazing attractions which can be easily explored by availing a Bilbao car rental service. With us, you can choose from a huge fleet of cars which ranges from big family cars to small economical cars. In association with popular car suppliers, we offer several Bilbao car hire benefits like unlimited mileage, liability insurance, theft protection, roadside assistance, round the clock customer support, collision damage waiver and much more.

Bilbao - Highlights

The imposing Zubizuri Bridge, the magnificent Euskalduna Palace and the Guggenheim Bilbao Museum are some of the most popular sightseeing attractions of this city that serves as an ideal setting for this blockbuster movie. In fact, these places of interest have become one of the most snapped monuments in the city due to the James Bond movie sequences shot here. You too can huddle with your family in front of ones of these monuments and take a family picture here.

Apart from the above mentioned places of interest, Bilbao also boasts of a rich heritage of art, culture, architecture and theatre. The Guggenheim Museum, Fine Arts Museum, Basque Museum, Maritime Museum and the Euskalduna Conference Centre and Concert Hall are some of the most popular museums and cultural attractions in the city. For visiting all these stops, comfortable Bilbao car rental services happen to be a good idea.

Those with a penchant for visiting churches will not be disappointed in Bilbao as the city is home to some of the most famous churches and cathedrals in Spain that are known for their brilliant architecture. These include Santiago Cathedral, Saint Anton Church, Basilica of Begoña, Saint Nicholas of Bari Church, Santos Juanes Church and Saint Vincent Church. Do not forget to include Arriaga Theater, Bizkaia Delegation Palace, City Hall, Chavarri Palace (Moyúa square), Plaza Nueva and Ribera Market in your Bilbao itinerary. Sports fans can also take a tour of the San Mamés Stadium.

There are a number of well manicured parks and gardens in the city where you can go on a family picnic and unwind a little. You can also head towards one of the beaches for some family fun. It will become much easier and convenient for you to travel around the city if you rent a car in Bilbao.

Book your Bilbao car rental now!