Valencia Airport Car Rental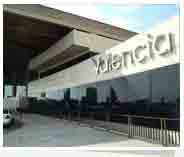 One of the best ways to travel to the Spanish city of Valencia is by taking a direct flight to Valencia Airport in Manises. Also known as Manises Airport, it is the eighth busiest airports in the country in terms of passengers it handles. In fact, it is second only to Alicante, when it comes to the passenger traffic handled by it in the region. According to the latest data made available by airport authorities, this airport served 5.7 million passengers in the year 2008. It is located at a distance of 8 km from Valencia city centre and has one terminal and one runway. After moving out of the airport, you would find a motley assortment of car hiring services.
Apart from catering to the passenger traffic of Valencia, the airport also serves passengers coming to Madrid and Barcelona that are connected to the airport through Autovía A-3 highway and Autovía A-7 coastal route respectively. Valencia Airport was recently renovated for the 2007 America's Cup. A new regional terminal was constructed and the car parking facilities and apron area were expanded as a part of this project. The runway was also lengthened by 50 meters. The services at Valencia Airport include an ultra new VIP lounge that has been built in the place of an old one.

This lounge remains open 06:00 to 22:20 and spreads over two floors that receive ample natural light throughout the day. You can also enjoy a breathtaking view of the airfield from this lounge. The lounge is conveniently located between T1 and the Regional Aviation Terminal (TR) so that it can be used by passengers of both the terminals. The well-trained staff at the lounge serves snacks, drinks, soft drinks, coffee, milk, teas and pastries at regular intervals. You can also request them for a Spanish Daily or a foreign newspaper. The lounge is also equipped with a color TV and Wi-Fi internet connection. Airport premise brims with facilities and if you want to enjoy the fare outside get going with the help of a car rental service. They would help you explore the city best.
A novel service offered by Valencia Airport to its passengers is the Tourist Móvil service. This service enables passengers to download interactive tourist guides in their mobile phones by using Bluetooth technology. Other facilities available at the airport include food and beverage outlets, a gift shop and a pharmacy. In case you are in a hurry to begin your Spanish holiday as soon as you arrive at the Valencia Airport, we suggest that you hire a car from Best Spain Car Rental. We offer a huge fleet of cars to choose from as per your requirement. We at Best Spain Car Rental also offer attractive discounts on all the car models.