Valencia Car Rental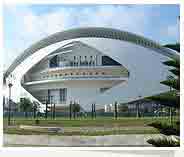 A trip to the wonderful Spanish city of Valencia is what dreams are made of. There is just so many things to do and see in this beautiful city that you may just run out of time to cover all of it. This city is slowly making its presence felt in the tourism map of the country and is gaining immense popularity as a weekend holiday destination. This is an ideal place to whisk away the love of your life for popping the question or to create fond memories of your honeymoon. The freshness of this city, that is yet to fall a victim to mindless commercialization to attract tourists, is the main appeal of this place. If you want to indulge in capturing the real essence of the city, there is nothing better than a car hiring service.
This city of Valencia has something to offer to everyone, whether it is the historic monuments that are more than 2000 years old or the sun kissed beaches that form the perfect setting for a romantic getaway. A wide range of hotels that cater to tourists with diverse needs and budgets, pulsating night life, lively art scene and monuments known for their architectural brilliance are some other attractions of this unique Spanish city that draws tourists from far and wide.

The city of Valencia and its people offer a warm welcome to one and all and make them feel right at home. Even if you have a small appetite, do not forget to sample the local and international delicacies served in the multi cuisine restaurants in the city. The rich cultural lineage of this city can be easily assessed from the priceless collections housed in its many museums and art galleries. The local theatre has also made quite a name for itself among tourist population visiting this city. Hiring a car rental service is a good idea if you want to get a closer look at the city.
Some of the must see attractions of Valencia that you should include in your itinerary are historic center of the town, the City of Arts and Sciences, the Gardens of Turia, Plaza de Ayuntamento, Plaza de la Virgin, The Cathedral, Mercado Central and The Port. You may also visit other places of interest in the city such as Ceramics Museum, Sta Catalina Tower, Water Court, Iglesia Santos Juanes, Crypt of San Vicente Martyr and Chapel of San Vicente Ferrer.
If you do not want to rush through your sightseeing trips of the city, you should hire a car from Best Spain Car Rental . We are the undisputed market leader in this sector and offer highest standard services at lowest prices. With Best Spain Car Rental, your Valencia trip will become a fantastic experience.