Jerez Airport Car Rental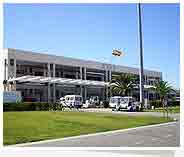 Our company offer best Jerez Airport car rental service for business and leisure travelers. Situated at a distance of 8 km to the northeast of Jerez de la Frontera in Southern Spain, Jerez Airport is also known as La Parra Airport. Rent a car at Jerez Airport and easily travel to the charming Jerez de la Frontera. Our Jerez Airport car rental deal comes with several benefits like collision damage waiver, liability insurance, theft protection, unlimited mileage, roadside assistance and reliable customer support.

This airport also serves as a gateway to the twin cities of Sevilla and Cadiz that are located at a driving distance of 80 km and 45.2 km respectively. This modern aviation facility has all the main arrivals and departures terminals located in the ground floor. Once out of the Jerez airport, you can run through the city with the help of various car hiring services.

Passengers can make use of Jerez Airport car hire service and drive to the nearby cities of Gibraltar, Tarifa and Costa del Sol, each of which is only 90 minutes drive away. According to the latest statistics available, nearly 36% of air traffic handled by Jerez Airport is of domestic origin. Among the remaining, a majority of flights originate from Germany and the United Kingdom. While some of these flights operate all round the year, there are others that are seasonal.

Jerez Airport offers a number of services and facilities for the convenience of its passengers - both domestic and international. The parking facility at the airport is a major help for those passengers who have hired Jerez Airport car rental service in the last minute to make the most of their trip to Jerez de la Frontera. You too can hire a car at Jerez Airport if you do not like traveling in a herd with other tourists. This will also eliminate the need to wait in long queues for taxis wherever you go during your trip in the city.

You can get direct flights to Berlin-Tegel, Palma de Mallorca, Paris-Charles de Gaulle, Düsseldorf, Frankfurt, Madrid, Brussels, Hahn, London-Stansted, Manchester and Barcelona from Jerez Airport all round the year. These flights are mostly operated by airlines such as Air Berlin Air Europa, Air Méditerranée, Condor, Finnair, Iberia, Jetairfly, Luxair, Niki, Ryanair, Thomas Cook Airlines and Transavia. Some of these airline companies also operate seasonal flights to various German cities including Munich.

Book your Jerez Airport car hire now!