Torremolinos Car Rental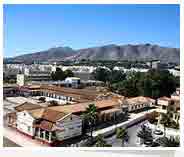 Torremolinos in Spain is located in the Costa del Sol region, in southern Spain and is one of most happening towns in the region. Torremolinos saw a boom in tourist culture after 1960 and today Torremolinos is one of the most loved locations in Costa del Sol. Torremolinos offers nothing very traditionally Spanish as such, but still has a charisma of its own. With ample options for fun as there are numerous bars, restaurants and night clubs all over the town, your holiday in Torremolinos will be memorable affair in its own special way. The best mode of transportation in this city is by a personal car. For tourists hiring a car is the best option for commuting here.
Torremolinos has a small Torremolinos airport but this airport does not handle international traffic. Nearest international airport to Torremolinos is the Malaga Airport that is about a 23 minutes ride by road. Best Spain Car Rental is undoubtedly the most convenient option available to the tourist to get to the town of Torremolinos. With so much to visit and explore in Torremolinos, Best Spain Car Rental offers an easy access to numerous locations, there by saving a lot of time which you can spend enjoying the other aspects of holidaying. It is a good option to book before hand with www.bestspaincarrental.com and enjoy fantastic deals and discounts with your car rental service in Torremolinos.

As stated earlier, Torremolinos is a fantastic beach avenue. The nine kilometer long sandy coastline is the biggest attraction for every tourist visiting this resort town. You can eat, drink, sun bathe, water ski, Para glide and do anything and every thing out here at pristine beaches. Fantastic beachside restaurants, night clubs, bars all over the coastline are another great attraction for the tourists. This beach town has huge number of cheap luxurious villas and resorts for your pleasant stay.
When you hire services of Best Spain Car Rental, you can access every corner of this beach town with ease. If you are on a family holiday, don't miss the fantastic Torremolinos aqua park with fabulous aqua rides, waterfalls and much more for a family fun. Just on the outskirts of the town, there are 3 pine forests that are home to fresh water springs, exclusive flora and fauna which offer barbeque facilities for a night out as well. Do visit the Palacio de Congresos or the Congress Hall and the Principe de Astuias Municipal Auditorium in the town for some fantastic local concerts, ballets, or an exhibition.
With Best Spain Car Rental, you have an easy access to various shopping arenas of the town. For shopaholics, Calle San Miguel is a paradise with huge local markets to shop from. With Best Spain Car Rental, you can visit numerous Spanish bars and restaurants dotted all over the town and experience the exclusive savor of Spanish food. You can also try some of the best sea food dishes at the old fisherman's district of La Carihuela nearby.