Tenerife Sur Reina Sofia Airport Car Rental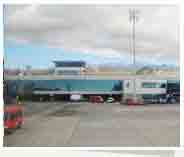 Tenerife Sur Reina Sofia Airport or Tenerife South airport (TFS) in Spain is the main tourist airport in the South (Sur) of Tenerife. It is also known as Reina Sofia Airport and receives a number of national and international tourists all round the year. Most of these tourists have a booking at one of the most luxurious resort properties in the region such as Los Cristianos, Playa de las Americas, Los Gigantes and Las Galletas. If you too have planned a romantic getaway with your special someone in Southern Tenerife, the best way to come here is by taking a flight to Tenerife South airport. Once out of the airport ramparts, too many car hiring services welcome you to tour across the city.
Once you have reached Tenerife Sur Reina Sofia Airport in Spain, you can hire the service of a car rental company to travel to your onward destination. You can easily reach Los Cristianos and Playa de las Americas from this airport in less than 30 minutes by a car. In case you are coming to South Tenerife from the United Kingdom, you can save a lot of money by booking your air tickets in a chartered flight to Tenerife Sur Reina Sofia Airport. These usually cost less than half of the airfare of regular flights to the island.

If you are flying to Tenerife Sur Reina Sofia Airport on a Friday, do not be surprised to be greeted by an extremely busy and congested Check-In area. The scene remains unchanged almost throughout the peak season. However, you can avoid the rush in lean season (May to June) by flying in on a Monday or Tuesday. First time visitors can collect some useful tourist information about the place from the tourist desk at the airport. Just as the airlines are efficient, various car hiring services around the airport premise offer you great sightseeing fare.
Tenerife Sur Reina Sofia Airport houses a number of cafes, bars and restaurants where you can dig in a sumptuous spread of local specialties. These are conveniently located in the departure lounge that offers an excellent view of the runways. Passengers can also avail the long term car parking facility at this airport. Some duty free shops are also located in this airport. You can while your time here while waiting for your rental car to arrive to pick you up.
With Best Spain Car Rental, you can be sure of highest quality services that have become our trademark. We offer latest models of SUVs and Hybrids to select from as per your need and budget. We at Best Spain Car Rental also offer lowest prices for our cash conscious customers.